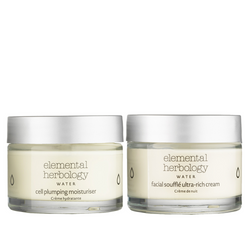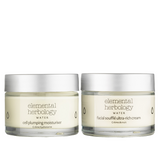 Cell Plumping & Facial Souffle Bundle
Save 20% when purchased together.
Deeply nourish and hydrate from AM to PM with this moisturising duo, perfect for dry/dehydrated skin.
Cell Plumping Moisturiser
Plump, hydrate and nourish dry skin while improving the skin's natural barrier, reducing sensitivity and increasing elasticity with this nourishing day cream, rich in essential fatty acids and omegas.
Facial Soufflé Ultra-Rich Cream
An intensely hydrating cream to help firm and plump the skin while replacing lost moisture. Fine lines and wrinkles appear reduced and skin feels nourished and healthy. Can be used as a day or night moisturiser, or as an overnight mask.
Customer Reviews
11/20/2021
I love these creams
I bought Water Cell plumping moisturisers for day and night. They smell heavenly and leave my quite sensitive skin soft and hydrated. I also believe they improve my wrinkles
Marina S.
Twickenham, England, United Kingdom
08/23/2021
Amazing
I absolutely adore those two moisturisers, I gave the Soufflé to my mum and she loves it too. Thank you Elemental Herbology
Agata W.
Edgware, England, United Kingdom